PANG , JU-DONG
STARKE PARTNERS WITH EVERPADS TO DEVELOP NEW RUBBER BUFFER FOR NEW POWER PACK- CRANE SUSPENDED VIBRATORY HAMMERS
Guangdong Liyuan Hydraulic Machinery Company Ltd. (Starke) is a leading piling machine manufacturer in China. In order to earn a reputation for providing high quality products, they have integrated EVERPADS's Formula E rubber buffer across all their vibratory hammer model. Their popular machines include the diesel pile hammer, hydraulic impact hammer, hydraulic vibratory hammer, static hydraulic pile driving machine, crawler piling rig, hydraulic pile driving rig, and bored rotary drilling rig.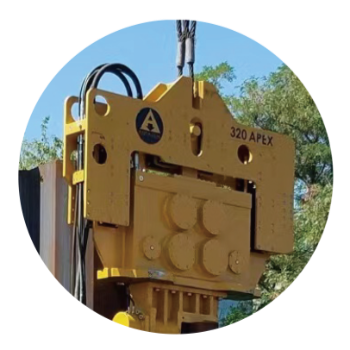 The Story of Starke
Established in 1993 in Foshan City, Guangdong Province, Starke is one of China's leading companies in the field of piling machinery. Its factory covers an area of 47,000 square meters and has over 350 employees, with over 50 engineering and technical staff.
Utilizing our development of technology and experience, Starke has become one of the leading pile driving equipment manufacturers in the world. Starke has built good relationships with worldwide plant contractors and agents, and has been supplying OEM service for ICE in the U.S. for over 14 years.
Buyer : OEM
Machine type
SV300 SV250 SV230S V200 SV180 SV150 SV120 SV100 SV80 SV68T SV60T SV50T SV40T SV35T SV68L SV60L SV50L SV40L SV35L SV50S SV40S SV35S
Expanding Crane Suspended Power Pack Vibratory Pile Hammer Market
Before stepping into the crane suspended market, Starke mainly provided hydraulic impact hammer machines.The CEO of Starke, PANG , JU-DONG , found out that the non-residential infrastructure market was still growing. He knew that Starke was innovative in its pile hammer machine, so his goal was to expand the market with their new SV series of suspended vibratory pile hammers.
His goal was to provide a comprehensive vibratory pile machine, with a maximum centrifugal force of 350 kn to 2498kn for users among heavy non-residential construction around in China. At the same time, gather all the specifications he needed to ensure that the rubber buffers are still as effective and able to meet the necessary requirements in such a short time.
"A higher level of vibratory pile hammer requires sophisticated engineering and higher specs of components, especially the rubber buffer- these kinds of details produced exceptional crane suspended vibro pile hammers. With the right components, you have the ability to provide a premium customer experience to the customer," said PANG , JU-DONG. We planned to approach this in phases. First,provide the maximum extracting/driving force of the new vibratory hammer. Second, try the new developed rubber buffer on the new vibratory hammer. Third, scale the new vibratory machine to the market.
EVERPADS Rubber Buffer IC101-2, 108-9 Customized Force for Power Pack Vibratory Pile Hammer
Fortunately, PANG , JU-DONG had the ideal partner in mind. Having worked with EVERPADS during previous machine developments, he was confident with the benefits of EVERPADS'rubber buffer solutions that can withstand maximum force with 3 times the lifespan and scalability.
"I prefer partnering with EVERPADS because they are more mature compared to other rubber buffer providers. It's important to use a leader of rubber technology in the market," he said. "With the right rubber buffer manufacturer, you will save development time where you are not experienced. That allows you to focus on vibratory hammer development."
To address the first phase, after knowing the new requirement of maximum force, EVERPADS reformulated the rubber properties and customized the force for 38.92 kn with 200mm displacement per rubber buffer, to fit the new vibro pile hammer model. In the second phase, EVERPADS rolled out a new rubber buffer within one month and sent it to Starke so they could test the specs on their new vibratory hammer machines.Starke then approved and confirmed that the specs of the rubber buffer were right for the new machine, and that they were ready to scale it. Finally, Starke estimated how many rubber buffers they needed each month so that EVERPADS could maintain the stability of manufacture and logistics to meet their demands.

Challenges
The need for a higher force rubber buffer vibratory pile machine with a maximum centrifugal force of 350 kn to 2498kn to expend users among heavy non-residential construction around the world.

Approach
Implement EVERPADS'customized rubber buffer solution IC108-9.
The Results - One company to Provide a Reliable and Scalable Solution for all Custom Vibratory Hammer Needs
With the rollout of EVERPADS'IC108-9 rubber buffer, the company now has saved significant time developing rubber buffers for new power pack vibratory hammers. This affords PANG , JU-DONG the ability to put their machine on the market quickly, a machine that will outperform all others on the market.

Results
Save significant time developing a new vibratory pile hammer.
Increase customer satisfaction with a higher longevity and efficiency rubber buffer.
Gain a long-term partnership for scalable solutions.
"If you are looking for a high driving force and a long lifespan rubber buffer, EVERPADS is your only choice."
Mr. Pang, President of STARKE- Hydraulic Vibratory Hammer